15.2

Examples

For the following examples let us assume that we have a construction with points P1, P2, P3 and P4 as well as vectors V1, V2 and V3.
The expression 'V1+V2' evaluates to a vector that is displayed in a row. 'v1+v2' is undefined. Be careful with lower- and uppercase letters!
The expression V1 + V2*V3 is undefined because V2*V3 is a number whereas V1 is a vector.
The expression sqrt(V1*V1) evaluates to the length of V1. If you need the lenth of V1, use 'Measure and calculate - Length', it's faster!
The expression

acos(V1*V2/(abs(V1)*abs(V2)))

gives the angle between V1 and V2.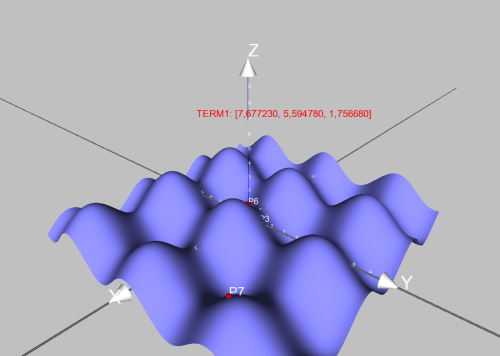 The image shows Archimedes used as a function-plotter for the function z = sin(x + y).